Noël's Specialty Food and Catering is owned and operated by Chef William Noël. Chef Noël, a Rutland native, began his culinary career in Vermont restaurants nearly 25 years ago. He received numerous awards for his culinary work while at the Red Clover Inn in Mendon and the Lilac Inn in Brandon. He's been featured in Gourmet magazine, the Home Shopping Network and Bon Appetit.
Chef Noël ventured into the catering and specialty food business to allow more time with his wife Kim and their five small children. He built his first smoker in 1991, later opting for a commercial model as interest in his specialty products grew. Noël's Specialty Foods and Catering sponsors weddings, corporate events, graduations, bar & bat mitzvahs, and other special occasions. Noël's products became so popular that they are now produced for the retail market.
Owing to his decades of experience, Chef Noël knows that superb cuisine is only one facet of a successful catering service; the staff is the linchpin of excellent customer experiences. That's why our staff represents a combined 130 years in the restaurant business. The team at Noël's Specialty Foods and Catering anticipates problems before they happen, making for a successful event and memorable occasion for all in attendance.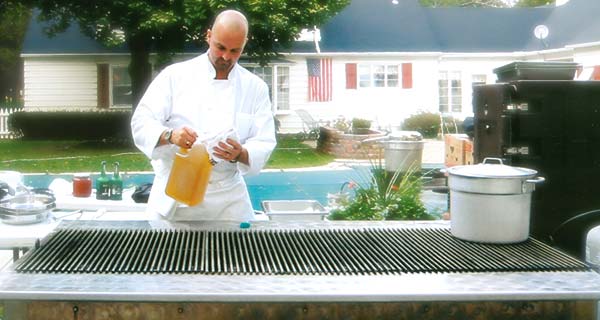 There is not much that Noël's Specialty Foods & Catering cannot do! Please do not hesitate to contact us if you don't happen to see something that you would like or if you'd like more information about our services.