Chef William S. Noel started a catering company 20 years ago while employed as the executive chef at the Lilac Inn, located in Brandon Vermont. Chef William has years of restaurant experience behind him and has done an array of functions.
Today, our main goal at Noël's Catering is to specialize in customizing each and every private event and menu to meet any budget. We have done simple barbecues to sit down dinner with rack of lamb and candlelight to seven-course wine tasting dinners. Noël's Catering is also a licensed liquor caterer. Our professional staff is dedicated to providing our clients with the highest quality of service, cuisine and entertainment. The smallest attention to detail will not be overlooked!
Why not experience this personalized innovative approach to entertaining in the luxury of your own home?
We can offer our clients the assurance that your special event will be handled with a new and refreshing approach that will leave you and your guest with a lasting impression of friendliness and hospitality. Because this is what we do best "SERVICE OUR CLIENTS'', which is a true sign of professionalism.
It is our sincere hope that we at Noël's Catering that we will be able to fill any of your needs In the future.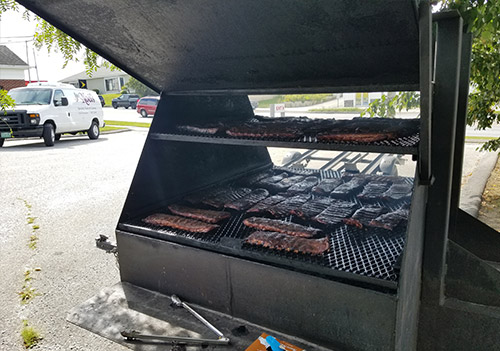 BBQ Catering Now Available
Noël's Specialty Food and Catering purchased a tow-behind smoker from Texas for on-site barbecue service. As a result, we are now offering BBQ with our catering service!
Why go with a smoker barbecue? Smokers will cook the food at lower temperatures (usually around 240°F, or 116°C), yet at a slower pace. This is popularly known as "slow and low" cooking.
Usually, some wet chips are placed inside, creating smoke. The slow cooking process, along with the chips, gives the food a delicious and unique flavor. At the hands of a master, smokers will deliver a meal to remember!
And, our Chef at Noël's, Chef William Noel, does BBQ like no other in Vermont. Our smoker barbecue service has been incredibly popular; you will not regret trusting Noël's Specialty Food and Catering with your catering needs. See our Barbecue Page for more information and for a sample menu.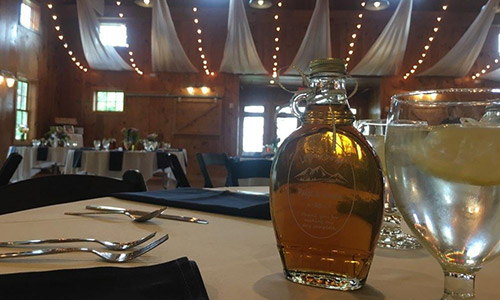 Reception & Bar Service
Noël's Specialty Food and Catering can handle all of your bar service. We are a licensed liquor caterer.
Our liquor service is available on four options: (1) open bar, (2) cash bar, (3) combination bar, or (4) kegs only. Service is subject to the laws in the State of Vermont. In accordance with those laws, alcoholic beverages consumed on the premises must be provided and served only by Noël's Specialty Food and Catering.
The customer will tell one of our professional bartenders which drinks they would like to have available at their event and our staff will then take it from there.
There is not much that Noël's Specialty Foods & Catering cannot do! Please do not hesitate to contact us if you don't happen to see something that you would like or if you'd like more information about our services.